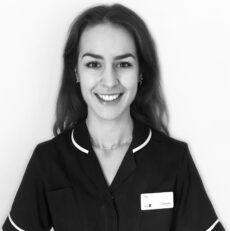 Dr Matilda 'Tilly' Houston
BDS University of Bristol 2020
Associate Dentist
GDC No. 290297
Tilly is originally from Wimbledon but moved to a small village in Surrey during her childhood. She spent 5 years studying in Bristol and has now moved back to London as she missed the hustle and bustle that city life offers.
Tilly is a keen sportswoman and enjoys keeping active in her free time, particularly swimming, running and playing netball. She has competed nationally at all three sports and next on her bucket list is to swim the English Channel. To keep her fuelled during her sporting endeavours, Tilly loves going out to restaurants to catch up with friends – Italian and Japanese cuisines are her favourite. She also has a very sweet tooth and over lockdown has perfected the art of baking her signature banana bread!
Tilly provides all aspects of general dentistry and her gentle and warm nature means she particularly enjoys treating children and nervous patients.
5 interesting facts about Dr Tilly:
Favourite past time: Singing in the shower 🚿
Favourite food: Anything chocolate 🍫
Favourite aspect of the job: Meeting and chatting to new people every day 🗣
Unique fact about Tilly: She is a qualified swimming teacher 🏊🏽‍♀️
One word to describe Tilly: Caring 💕
Back to Team