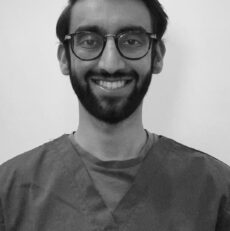 Dr Sajjidali 'Saj' Alidina
BDS
Associate Dentist
GDC No. 271929
Dr Saj qualified from King's College London in 2017 and has since gained experience working in several different practices, becoming a treasured member of each team almost immediately.
He often volunteers for medical/ dental charities in third world countries to satisfy his passion for serving patients in need and looks forward to being able to do so again soon.
In his spare time, he enjoys spending time with family and writing poetry, as well as travelling to all sorts of interesting parts of the world.
5 fun facts about Saj:
Favourite pastimes- Sleeping and teaching (in that order) 🛌 💤
Favourite food- Anything made by his wife! 👩🏽‍🦳
Favourite aspect of the job- The satisfaction of solving a patient's concerns; whether that's anxiety of having treatment or a sore tooth stopping them from eating comfortably ✅
Unique fact- Saj had a lockdown wedding, only 6 people were invited 💍
Best word to describe me- Sincere 🙏🏾
Back to Team