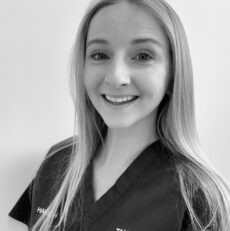 Dr Hannah Wilkins
Associate Dentist
GDC No. 290664
Dr Hannah is originally from the New Forest and loved growing up with both the countryside and beaches nearby. Hannah studied Biomedical sciences for 3 years at Royal Holloway University before spending 5 years in Bristol studying Dentistry. After university Hannah moved to London and she loves everything this vibrant city has to offer!
When not in the clinic you can find Hannah on long walks around the city exploring new bakeries or restaurants, attending West End shows or relaxing doing some reading or yoga/pilates.
Hannah enjoys travelling and did voluntary dentistry in Tanzania with our other associate Tilly. Hannah can't wait to explore South America and more of Asia in the future.
Hannah enjoys all aspects of general dentistry. Hannah loves chatting with and getting to know her patients. She enjoys helping anxious patients, changing their perceptions of dentistry and trying to help them leave with a smile on their face.
5 facts about Hannah:
Favourite food: Sushi
Favourite past time: Skiing
Unique fact about Hannah: Hannah loves any adrenaline packed sport, she used to be a cheerleader and did ski racing at University. She wants to learn to surf!
Favourite aspect of the job: Getting to know all of her patients and using her skills to create smiles and make positive changes to patients' lives
One word to describe Hannah: Passionate
Back to Team